01.07.2022
Turkey's Besiktas jumps into tankers as it grows shipyard footprint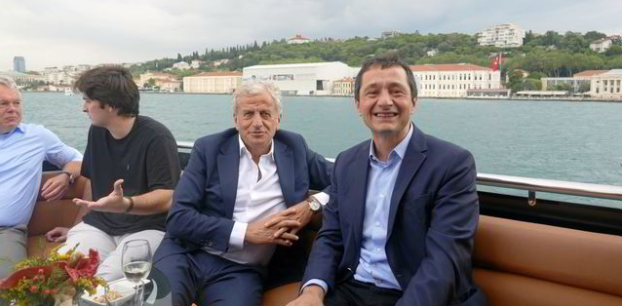 Turkish shipping group expands its tanker fleet and rises into the world's top five ship-repair hubs
A burst of deal-making in Turkey and abroad has seen the Besiktas Group ramp up its shipping interests lately. In an interview with TradeWinds, managing director Yavuz Kalkavan revealed a string of business cooperations and secondhand deals that have boosted his and his partners' activities. That applies both to Besiktas' fleet of chemical tankers and its ship-repair business, in which the group is, by many measures, the world's biggest player outside China. "I'm well with partners," Kalkavan said from his office in downtown Istanbul. "That comes from my father, Ihsan — he always liked to build partnerships and have good partners around him." The cornerstone of this strategy has been Kalkavan's cooperation with the Yardimci Group — already one of the leading Turkish shipbuilders, which is led by Servet Yardimci. Yardimci was the original owner of the yard facilities that joined the Besiktas in 2019 and is currently known as Art Shipyard. This deal has turned Yardimci and Kalkavan into 50% partners in the Besiktas' two major ship-repair facilities — Besiktas Shipyard in Yalova and Art Shipyard in Tuzla. "We came together to create bigger values," Kalkavan said. The Kalkavan-Yardimci partnership has spilt over into shipowning as well, with Yardimci contributing 13 small chemical tankers and one boxship. The two partners own the vessels 50:50, while Besiktas provides commercial and technical management of the ships.
Excited by the tanker story
The Yardimci additions boosted the overall fleet, owned or managed by Besiktas, to close to 30 vessels. The biggest part of this fleet consists of small chemical tankers — exactly the type of ship Kalkavan is now excited about. "We didn't see much of a story in tankers until this year — now we're motivated," he said. Ukraine-related sanctions have stimulated demand for product tankers in the north-west European trades that Besiktas is specialising in. Responding to that demand, Kalkavan has signed to buy a pair of 40,000-dwt tankers that will be delivered in August and September. Kalkavan intends to invest further in smaller chemical tankers with a capacity between 8,000 dwt and 10,000 dwt, as well as in handymax and MR tankers. "Such ships are doing very well nowadays — we're not looking for very modern vessels or newbuildings," he said. Kalkavan upped his international tanker presence by a notch by becoming a partner in Alba Tankers two years ago — a Sweden-based commercial manager of chemical carriers that Besiktas had already been cooperating with. "We didn't just want to be a tonnage provider — we also wanted to be part of Alba, which has very good, direct relations with northern European oil companies," Kalkavan said.
Ship repair drive
The Alba deal did little to quell Kalkavan's deal-making thirst. Alongside his partner Yardimci, Kalkavan recently struck another agreement to become a 50% partner in the Duzgit Shipyard in Yalova. Brothers and tanker owners Recep and Metin Duzgit are old friends of Kalkavan and Yardimci and also operate the ship agency and duty-free business established by their father Salim Duzgit. The Duzgit investment is typical of the Besiktas' relentless ship-repair focus since 2009. The addition of Art and Duzgit yards now propels Besiktas into the world's top-five ship-repair hubs in terms of several metrics, such as special surveys completed, according to Kalkavan. The group's six floating and graving docks up to 382 metres long allow 300 ship repairs per year. Inflation and rising energy costs are a headache, forcing ship-repair yards in Turkey to slightly increase prices and curb discounts. However, business with ballast water treatment system installations remains brisk, and Kalkavan expects rising oil prices to boost scrubber installations as well. Duzgit will aim to capture part of that business when it starts operations soon — rebranded and with a floating panamax dock acquired from Besiktas as part of the partnership. Besiktas itself will replace that unit with a 285-metre floating dock, which was bought in Italy last year, underwent repairs and will be operational in October. Kalkavan counts on such big docks, able to handle post-panamax container ships, aframax tankers and LNG vessels, to drive further ship-repair growth in Turkey. In the 12 years that Besiktas has been in the business, Turkey's share of the global ship-repair market has almost tripled from 5% to about 13%. "In the next 10 years, I expect Turkey's market share to be above 20%," Kalkavan said