10.07.2020
No Cancellations for Besiktas Shipyard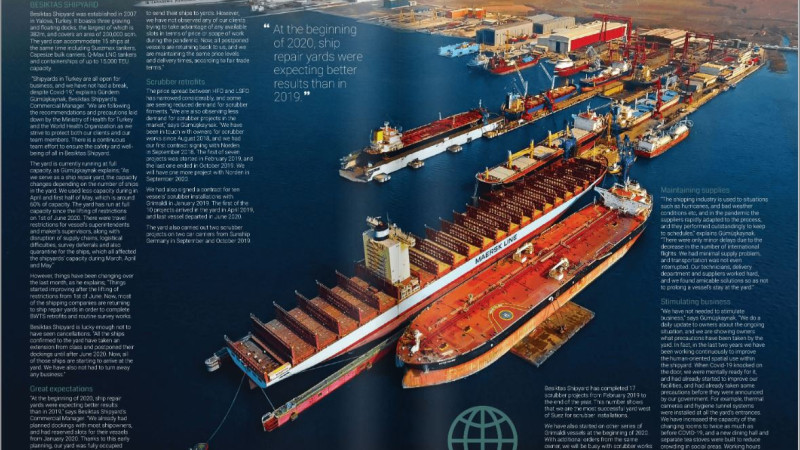 Besiktas Shipyard was established in 2007 in Yalova, Turkey. It boasts three graving and floating docks, the largest of which is 382m, and covers an area of 200,000 sqm. The yard can accommodate 15 ships at the same time including Suezmax tankers, Capesize bulk carriers, Q-Max LNG tankers and containerships of up to 15,000 TEU capacity.
"Shipyards in Turkey are all open for business, and we have not had a break, despite Covid-19," explains Gündem Gümüşkaynak, Besiktas Shipyard's Commercial Manager. "We are following the recommendations and precautions laid down by the Ministry of Health for Turkey and the World Health Organization as we strive to protect both our clients and our team members. There is a continuous team effort to ensure the safety and well-being of all in Besiktas Shipyard.
The yard is currently running at full capacity, as Gümüşkaynak explains; "As we serve as a ship repair yard, the capacity changes depending on the number of ships in the yard. We used less capacity during in April and first half of May, which is around 60% of capacity. The yard has run at full capacity since the lifting of restrictions on 1st of June 2020. There were travel restrictions for vessel's superintendents and maker's supervisors, along with disruption of supply chains, logistical difficulties, survey deferrals and also quarantine for the ships, which all affected the shipyards' capacity during March, April and May."
However, things have been changing over the last month, as he explains; "Things started improving after the lifting of restrictions from 1st of June. Now, most of the shipping companies are returning to ship repair yards in order to complete BWTS retrofits and routine survey works.
Besiktas Shipyard is lucky enough not to have seen cancellations. "All the ships confirmed to the yard have taken an extension from class and postponed their dockings until after June 2020. Now, all of those ships are starting to arrive at the yard. We have also not had to turn away any business."
Great expectations
"At the beginning of 2020, ship repair yards were expecting better results than in 2019," says Besiktas Shipyard's Commercial Manager. "We already had planned dockings with most shipowners, and had reserved slots for their vessels from January 2020. Thanks to this early planning, our yard was fully occupied for the entire year. But starting from the middle of March, there were survey referrals or postponements due to Covid-19, as shipowners were reluctant to send their ships to yards. However, we have not observed any of our clients trying to take advantage of any available slots in terms of price or scope of work during the pandemic. Now, all postponed vessels are returning back to us, and we are maintaining the same price levels and delivery times, according to fair trade terms."
Scrubber retrofits
The price spread between HFO and LSFO has narrowed considerably, and some are seeing reduced demand for scrubber fitments. "We are also observing less demand for scrubber projects in the market," says Gümüşkaynak. "We have been in touch with owners for scrubber works since August 2018, and we had our first contract signing with Norden in September 2018. The first of seven projects was started in February 2019, and the last one ended in October 2019. We will have one more project with Norden in September 2020.
We had also signed a contract for ten vessels' scrubber installations with Grimaldi in January 2019. The first of the 10 projects arrived in the yard in April 2019, and last vessel departed in June 2020.
The yard also carried out two scrubber projects on two car carriers from Sunship Germany in September and October 2019.
Besiktas Shipyard has completed 17 scrubber projects from February 2019 to the end of the year. This number shows that we are the most successful yard west of Suez for scrubber installations.
We have also started on other series of Grimaldi vessels at the beginning of 2020. With additional orders from the same owner, we will be busy with scrubber works until middle of 2021. But this is not the case for all our shipowners, and as stated earlier, we are also observing less demand for scrubber projects in the market."
Maintaining supplies
"The shipping industry is used to situations such as hurricanes, and bad weather conditions etc, and in the pandemic the suppliers rapidly adapted to the process, and they performed outstandingly to keep to schedules," explains Gümüşkaynak. "There were only minor delays due to the decrease in the number of international flights. We had minimal supply problem, and transportation was not even interrupted. Our technicians, delivery department and suppliers worked hard, and we found amicable solutions so as not to prolong a vessel's stay at the yard."
Stimulating business
"We have not needed to stimulate business," says Gümüşkaynak. "We do a daily update to owners about the ongoing situation, and we are showing owners what precautions have been taken by the yard. In fact, in the last two years we have been working continuously to improve the human-oriented spatial use within the shipyard. When Covid-19 knocked on the door, we were mentally ready for it, and had already started to improve our facilities, and had already taken some precautions before they were announced by our government. For example, thermal cameras and hygiene tunnel systems were installed at all the yard's entrances. We have increased the capacity of the changing rooms to twice as much as before COVID-19, and a new dining hall and separate tea stoves were built to reduce crowding in social areas. Working hours were also rescheduled, and personnel shuttle capacity was increased.  In addition, all the offices, ships and common areas are disinfected daily."