03.05.2021
New Agreements From Besiktas Shipyard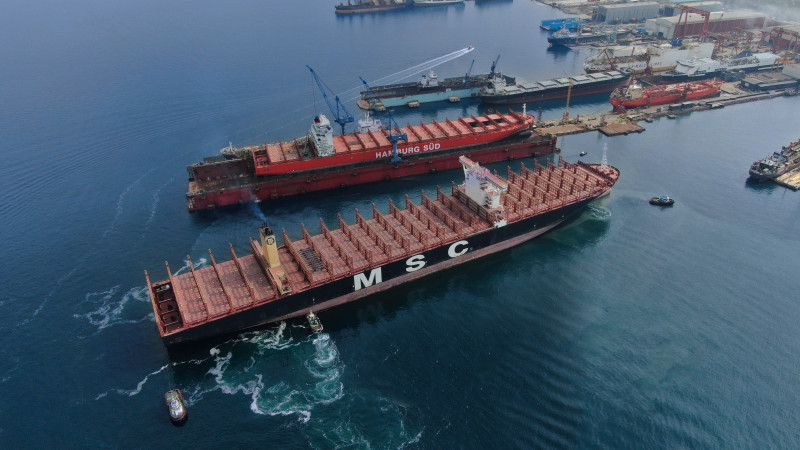 Cooperation between Italian ship owners and Besiktas Shipyard dates back to more than 10 years, and Besiktas Shipyard holds the leadership position in Italy since 2016. Grimaldi, d'Amico Società, Marnavi, Augusta Due, Navigazione Montanari and Premuda are the repetitive customers providing the majority of the ship repair projects.
Since the beginning of 2020, more than 50 projects from Italy were held in Besiktas and besides repetitive customers, the yard attracts new clients with its experience and high adherence to schedules.
AH Camogli
Rimorchiatori Riuniti was on the scope of Besiktas Shipyard since the beginning of the last year and two companies had come to an agreement for the conversion projects of the offshore supply vessel of the company.
MV Ah Camogli has arrived the yard at the beginning of April for accommodation and main deck machinery conversion works. Main scope of the project is prefabrication and installation of new accommodation area, modification of the existing cabins and mess room, upgrade of deck winches, cranes, modification of hose washing area and lifeboat davits.
The detailed engineering studies of the project is managed by the experienced engineers of Besiktas.
New Agreements with Italian Shipowners
Elbana, Finbeta and CSM Italy are the other companies from Italy that have entrusted their vessels to Besiktas Shipyard.
First vessel from Elbana, MT Falesia has visited the yard for BWTS and routine drydocking works on March, and second vessel, MT Etrusco will be hosted in May with same scope.
Finbeta's Rubino was in Besiktas for extensive cargo tank treatment works with 10.000sqm area to be fully blasted and painted. 16 cargo tanks have been upgraded by Marineline paint.
One of the youngest ship management company of Genova, CSM Italy, handled the 2nd special survey and BWTS projects of Nina and Grazia to Besiktas Shipyard.
The yard has a deal for Joly Vanadio from Ignazio Messina and the partnership seems to get stronger for the upcoming days.
Continuous Infrastructural Improvement
As the most active ship repair yard of Europe, in Besiktas Shipyard, continuous infrastructural improvement plays a key role to run the whole ship repair operation smoothly. After the big closed mechanical workshop construction in last year, Besiktas has enlarged the capacity of pipe prefabrication and outfitting workshops, grit house and chemical storage areas are relocated, owner representative offices were renovated, equipment such as high technology lathe and welding machines are modernized.