16.10.2020
Impressive Retrofit Projects From Besiktas Shipyard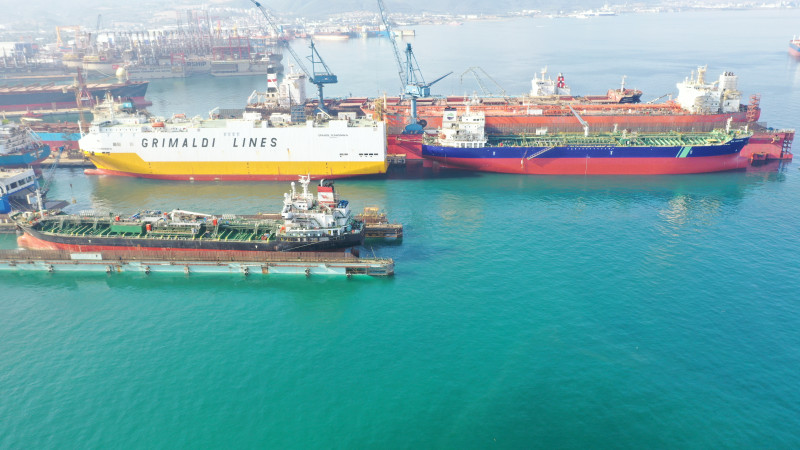 Due to IMO and US Coast Guard regulations, the interest for green solutions is growing constantly and shipyards are booming with retrofit projects. Primarily, Besiktas Shipyard is standing out as the most preferred shipyard by Italian shipowners for green solutions such as scrubber and ballast water projects.
The cooperation between the Italian shipowners and Besiktas Shipyard dates back more than a decade, in which the yard has completed more than 220 projects for leading shipping companies such as Grimaldi Group, D'Amico Societa, Marnavi, Navigazione Montanari, Motia (Marwave), Premuda, Augusta Due, Finbeta and Cosiarma.
34 Ships from Italy in 2020
Despite the outbreak of Covid 19, Besiktas Shipyard runs at full capacity without any interruptions of its activities. The yard has welcomed 29 Italian vessels since the beginning of the year and expected to close 2020 with 34 ships of which scrubber retrofits, BWTS installation and tanks upgrading are the main scope.
It is very usual to see a Grimaldi ship in the yard as 15 of its vessels' retrofit projects have already been completed and 4 more will be hosted on the following days.  Furthermore, Eurocargo series and 7 Deep sea vessels are delivered for major docking works, BWTS installation and scrubber installation and each project has been completed within 36 days.
Short Repair Periods for Extensive Projects
As the most active ship repair yard of Europe, Besiktas Shipyard can accommodate 15 ships concurrently.
The yard can handle extensive projects in short periods of time due to its high capacity in-house workshops and accomplished team with a remarkable time management and planning experience focused on satisfying the increasing demand.
For instance, the project of Auguste Due Erma First containerized solution on deck was one of these projects with 21 days of total repair period including routine docking works and following the second vessel of the company arrived to the yard in July for drydocking works.
D'Amico, one of the many loyal clients of Besiktas Shipyard, has contracted almost all its vessels' BWTS retrofit works to the yard such as High priority, High Courage, High Valor, Cielo di Capalbio and High performance which have visited the yard for standard docking works and BWTS installation.
Marnavi group chose Besiktas for its 10.000 DWT chemical tanker Ievoli Shine, and Ievoli Fast for repairs and full coating of Marineline in Cargo tanks. The major task of this repair was cargo tanks upgrading which has been completed within 38 days.
Following Marnavi's vessel, Finbeta's 11.000 DWT chemical tanker Rubino arrived to the yard for Cargo tank Marineline application, and recently, Bottiglieri and Messina are in Besiktas Shipyard for their standart docking.
Concurrently, Besiktas Shipyard has been busy with the repair of Cosiarma's 16.000 DWT reefer vessel which had an 4th special survey, BWTS installation and steel works in various tanks. Considering delicacy of reefer vessels repairs in terms of safety precautions, Besiktas Shipyard also proves its reliability on safety and quality.
As the fourth quarter of the year begins; completed projects of Italian vessels and the current workload of Besiktas Shipyard are a strong indication that 2021 will be surpassing 2020 in success, resulting in many more satisfied Italian shipowners.