06.10.2021
Exploring Besiktas Shipyard: Most Active Ship Repair yard of Europe with One Stop Repair for all Vessels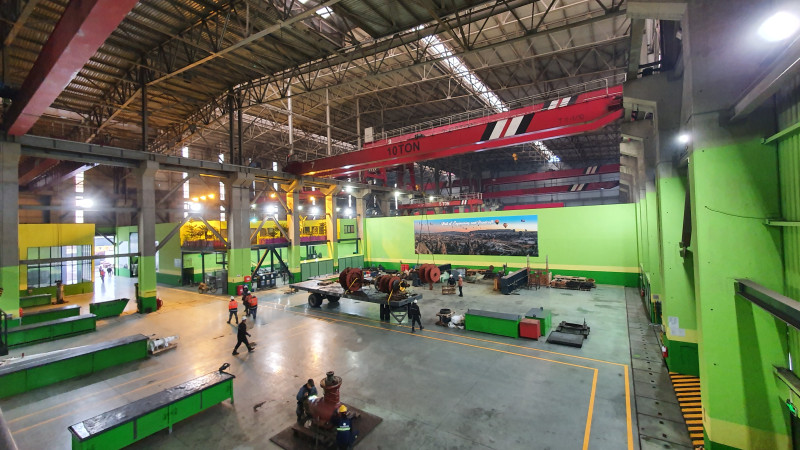 The Shipyard welcomes LNG Vessels for Repair Operations through the Cryogenic's LNG tanker repair workshop
"  We plan to install 2 additional cranes with 20 tons capacity during 6 months "
Besiktas Shipyard, established in 2007 in Yalova Turkey, is onwards with plans to invest in the yard's infrastructure and expand its capacity in different types of works, including dredger vessels, LNG tankers and more sophisticated conversion works, mainly midlife extension.
In a one of kind tour, Robban Assafina magazine had the chance to go over the different areas and sections of this huge shipyard, guided by Besiktas Shipyard's Commercial Regional Manager and Marine Engineer Tagmac Gurev.
He pointed out the yard's short-term plans, which mainly outline exploring new markets, with the Middle East region being first on the list: "Besiktas' is present in around 40 countries, mainly Denmark, Greece, Italy and Germany with several projects from Hong Kong, Japan and Singapore as well as other European countries, and we seek to take a step in the Middle East region, and make new collaborations with ship owner/manager companies in Dubai, Qatar and Lebanon."
Capacity
Besiktas Shipyard is highlighted as a shipyard in continuous work, currently offering ship repairing activities at its 3 docks (2 floating and 1 graving) that accommodate an average of 10-11 vessels concurrently.
According to Eng. Gurev, the various types of cranes found at the shipyard are providing the advantage of flexibility and faster working activities, which make it easier to lift heavy equipment and hatch covers directly from dock to shore.
The annual ship repair capacity makes another noticeable stop while listening to Eng. Gurev facts about the yard, with an average of 160-170 ships per year. This number has been slightly less (130 ships/year) due to scrubber and ballast water treatment projects, as these projects take more time at the yard than repairs: "Particularly for scrubber
installations medium range tankers take around 28-29 days, while RORO vessels take around 32-33 days."
Graving Dock
Moving to the docks at the shipyard, the Graving Dock is located in the central part of the shipyard, with a 235m length, 40m clear width and 28.000 tons lifting capacity. The Graving dock is supported by a 2x 100 t. Gantry Crane, 10 t Tower Crane and a 1 x 35 t & 2×16 t jib cranes. The yard can provide 440 V/60 Hz inside dock together with necessary service lines to the vessels. Especially for car carriers, graving dock is suitable to accommodate for opening stern/side ramps.
Commenting on this, Gurev explained: "We are one of the top ship repair yards for car carriers, repairing 25-30 vessels each year for Grimaldi, NYK, MOL Hoegh and Gram Car Carriers. We are considered one of Grimaldi's first choices when it comes to installing scrubbers for their fleet."
Near the Graving Dock, there are 4 fast boats nearby the boat station, with a 15-person capacity for each boat. These boats are used for transportation between the 2 shores of Yalova City and Anatolia, with a distance of around 7 miles; so superintendents who plan on staying in Tuzla or coming from Sabiha International Airport can use one of these fast boats.
Floating Docks
The shipyard has two berths with a floating dock in front of each; the Panamax size dock is on the right side, with dimensions ranging between 227 m length, 37 m clear width and 18.000 tons lifting capacity. The floating dock is supported by 2 x 20 t cranes. The yard can provide 440 V/60 Hz inside dock together with necessary service lines to the vessels. The dock can accommodate Panamax vessels up to 75000 dwt.
The left part contains the large dock, purchased in 2016 from South Korea, with dimensions of 382 m length, 58 m clear width and 72.000 tons lifting capacity. The floating dock is supported by 2 x 45 t cranes. The yard can provide 440 V/60 Hz inside dock together with necessary service lines to the vessels. According to Eng. Gurev, the shipyard can easily handle large container vessels up to 14000 TU, Suezmax, Aframax and Qmax LNG tankers.
In terms of the berths' availability, the yard has 2.7 KM space which allow to put at least 14 or 15 Handysize vessels at the same time.
The tour
During Robban Assafina's visit to Besiktas Shipyard, Eng. Gurev gave a detailed tour on the different sections and workshops, which include the newly established Cryogenic's LNG tanker repair workshop, ABB Turbocharger's workshop (active for 5 years in the yard), and Woodward's workshop.
He explained: "The mentality that lies behind this Cryogenic's LNG tanker repair workshop is to repair LNG Vessels; at least 2/3 of the LNG Vessels in the world are using cargo tanks designed by GTT, (GTT is the leading advisory partner for shipyards constructing LNG Carrier Cargo Tanks) and GTT is giving its approval for shipyards so that vessels can be repaired."
"We have arranged all the preparations for this workshop and made a virtual tour with GTT, who completed their audit and gave their approval. So from this moment on, we are able to accept LNG Tankers, because GTT Company is giving approvals to owners, who can now go to approved shipyards. We are so excited that Besiktas Shipyard is one of those approved shipyards."
As for ABB Turbocharger & Woodward Governor workshops, they have been active for 5 years at the yard, when Besiktas started a new and unique service with in-house workshops for authorized repairs for Woodward governors and ABB Turbocharger. Extensive propeller repairs and main engine maintenance works are also done within the capabilities of the yard's dedicated team. Turkey's first authorized shipyard workshops are part of the value added services provided by Besiktas to clients worldwide.
This is in addition to the steel workshop, electrical workshop, propulsion equipment, deck and engine machinery, safety valves, and routine testing equipment. With that being said, Eng. Gurev ensured that the shipyard can accommodate all engine types: "For fuel pumps, we have a separated zone where we can offer overhauls fuel pump services, with a staff including 15 persons."
Eng. Gurev made it clear that the shipyard's main goal is to perform all the jobs inside the shipyard without any outsources, establishing whatever possible in the yard, minimizing extra charges with qualified services, and improving capacity in activities mainly related to the scrubber and ballast water treatment.
"As for the ship sizes, we have a large dock 382x58m, so for every vessel we accommodate, we are able to perform engine works at our workshop. We also have a static balancing machine for impellers, as well as an oven for state run rotors especially for alternative fuels, in addition to a standard capability to perform electric motor overhauls reaching 1500 KW.
Eng. Gurev went on to talk about the section specialized for testing pipes after prefabrication, which faces a special area for overhauling and storing of the lifeboats.
Besiktas Workboats
The remaining sections are used for storage of equipment and prefabrication of other steel items. There is also a small section in the yard called Besiktas Workboats, where continuous activities of small shipbuilding projects (15m length tugboats) take place. "We did shipbuilding projects from 2009-2019, including shallow draft and dual fuel chemical tankers, SSV's, Live Fish Carriers and LPG carriers. But realizing that scrubber and ballast water projects will be much more involved in our portfolio, we decided to suspend the activities of shipbuilding and dedicate the ship yard's need to ship repair."
Steel Workshop
At the steel workshop, which is considered one of the most powerful arms in the shipyard, Eng. Gurev stated: "Here, we have all the prefabrication activities of steel sections, with a capacity of 1500 tons and more than 400 steel workers in the yard, with the possibility of increasing the number."
Guest House
As for the indoor facilities, meeting and guest rooms are available for engineers, technicians and superintendents which they can use during the repair period; class surveyors have separate rooms as well, all for free.
Elaborating this further and referring to it as a "4 stars hotel", Eng. Gurev said that there are around 21 rooms in the guest house, with available laundry services, breakfast and dinner at one facility, and lunch at another.