13.10.2016
Besiktas starts to operate new floating dock for larger vessels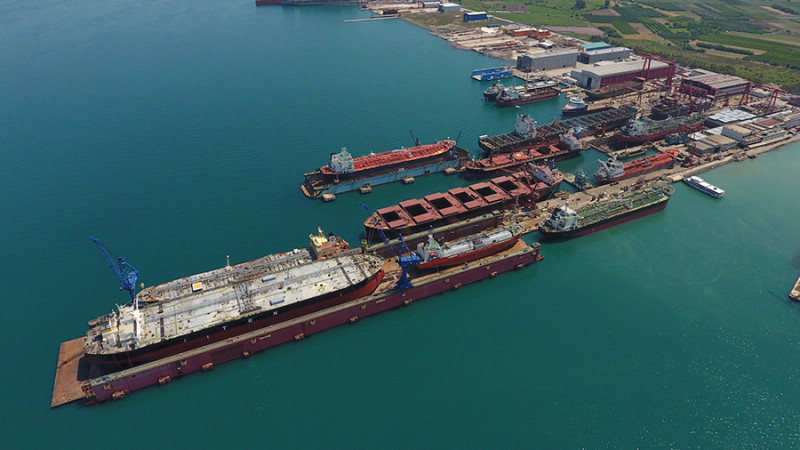 Besiktas Shipyard of Turkey has launched a floating dock it purchased in South Korea last year to boost its shiprepair business.
The 382-metre (1,250 feet) by 58-metre inner free-beam dock began commercial operations at the end of last month. Its first job is on a Greek-controlled aframax tanker.
The new facility significantly widens the scope of vessels Besiktas can accommodate. Its two other docks were limited to panamaxes.
"Our new market will be plus- 230-metre vessels," said Besiktas Group managing director Yavuz Kalkavan. This means the Izmit yard can now handle suezmax tankers, capesize bulkers, Q-max LNG tankers and containerships of up to 15,000 teu.
Besiktas agreed to acquire the 2007-built floating dock from STX Heavy Industries late last year for $42m. It was initially hoped to begin commercial operations in the first quarter of this year. The starting date had to be moved back because of delays in the dock's delivery and its subsequent towage to Turkey.
The new facility strengthens Besiktas' position as one of the most active shiprepair yards in Europe and the Mediterranean. Its three docks can handle about 200 vessels per year and have capacity for 150 dockings, with a combined layberth of 2,500 metres. Besiktas used to own another 230-metre, panamax floating dock but this was sold.
The company says it has about 10 firm shiprepair bookings for October. Its client portfolio includes owners and managers in Denmark, Germany, Italy, Greece, Hong Kong, Singapore and Japan. Existing fleet agreements are with leading owners such as Maersk, Norden, Clipper, Claus-Peter Offen and Grimaldi.
Besiktas has also made a name for itself as a shipbuilding yard since it was set up about seven years ago. Kalkavan was among the first Turkish yard owners to pinpoint the need for the country's shipbuilders to target niche markets. His company has delivered about 35 newbuildings since 2009, including five chemical tankers of up to 18,000 dwt to the group's own account.
Vessels built for other owners have included small, semi-refrigerated LPG ships, an ethylene LPG tanker, multipurpose platform supply vessels (MPSVs), seismic support vessels, a live-fish carrier and a trawler. Shipbuilding contracts secured by Besiktas over the past four years are worth a combined $380m, Kalkavan says.
The company currently has four 15,000-dwt polar ice-class/dual-fuel tankers under construction ordered by Desgagnes Shipping of Canada. It is also building a 100-metre MPSV for Myklebusthaug of Norway. These five newbuildings are due for delivery this year and next, Kalkavan says.