05.11.2015
Besiktas sinks $40m into infrastructure investment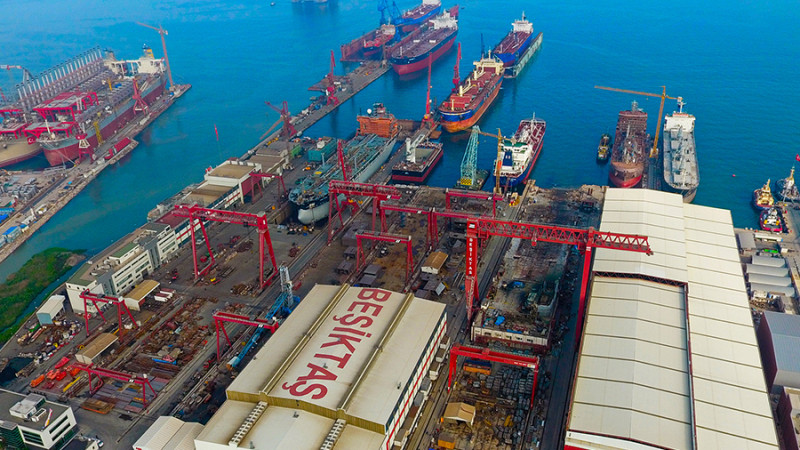 Turkish group has just bought a new floating dock with an eye on the cruiseship market while it is also busy building ships and renewing its own fleet
The Besiktas group of Turkey is expanding with investments both in its shipyard infrastructure and on the shipping side.
Board member Yavuz Kalkavan confirms the group has completed the purchase of a 2007-built, 386-metre floating dock with a total lifting capacity of 72,000 tons from STX Heavy Industries.
In a communication from South Korea, where he is currently on business, Kalkavan told TradeWinds that the dock will be towed to Turkey from Korea.
The investment is worth some $40m, including the cost of towage and passage through the Suez Canal. Besiktas will start operating it in the first quarter of next year. "The new dock will let us expand our shiprepair business further," Kalkavan said.
Currently Besiktas operates three panamax docks. It has a 235-metre-long by 40-metre-wide graving dock and two 230-metre-long and 37-metre-wide floating docks with capacity for repairing over 150 ships a year but is still keen to expand.
"We aim to be the market leader in shiprepair and conversions in the Atlantic Region," Kalkavan added.
The yard, which was built on a greenfield site on the Yalova side of the Bay of Izmit between 2007 and 2009, aims to snag a good amount of cruiseship repairs, since Istanbul is becoming a hub for such vessels, he says.
In addition to shiprepair, Besiktas is also a builder and currently is constructing a pair of 15,100-dwt ice-class 1A asphalt and bitumen tankers for Canada's Groupe Degagnes, both for delivery in 2016, as well as an advanced multipurpose platform supply vessel (MPSV) for Norwegian owner Myklebusthaug, also for 2016 delivery. Those three contracts, won at the end of 2014, are worth around $140m in total.
Meantime, on the shipping side the group is undergoing fleet renewal, buying two young 17,000-dwt ice-class 1A tankers — the 17,000-dwt Ayane (built 2010) and Elevit (built 2012) — for an undisclosed price from compatriot owner Yardimci. It is also selling the oldest ship in its existing fleet, the 18,000-dwt chemical tanker Besiktas Scotland (built 2007). Both the Ayane and Elevit are bareboat chartered in Argentina to National Shipping and Trans Ona SAMCIF, respectively.
Kalkavan confirms that the Besiktas Scotland has gone to German owner Carl F Peters but declines to reveal the price, although he hints that it is higher than the $16.3m reported by brokers.