07.08.2020
Besiktas Shipyard Secures The Leadership Position In Italian Market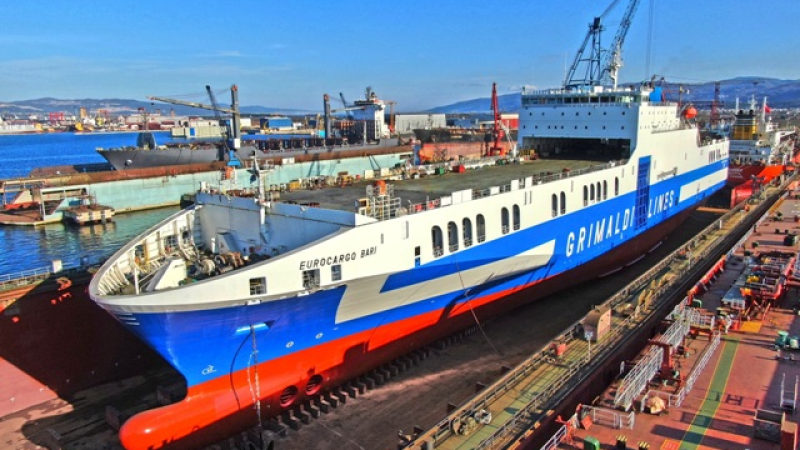 Besiktas Shipyard is standing out with ordinary maintenance, upgrades and retrofitting projects in Italian market. Despite the pandemics the yard succeeded to further its collaborations in the region and continues to attract leading shipping companies looking for professional hands.
Besiktas Shipyard is cooperating with Italian ship owners and managers since its establishment. First contact has been established with Grimaldi Group ten years ago and followed by many more projects with D'Amico Societa, Marnavi, Navigazione Montanari, Motia, Premuda, Augusta Due. These continuous projects enabled Besiktas Shipyard stand out as the market leader in Italy.
Last year Besiktas Shipyard was announced in Clarksons report as the most active ship repair yard of Europe and ranking 8th in the global scale with annually 180 ship repair projects. There are several factors standing behind this success. The yard is located in Yalova, Turkey and boasts three graving and floating docks, the largest of which is 382m, and covers an area of 200,000 sqm. This infrastructural capacity and their planning and organizational power enables the yard accommodate 15 ships concurrently including Suezmax tankers, Capesize bulk carriers, Q-Max LNG tankers and containerships of up to 15,000 TEU capacity.
No Cancellations During the Pandemics
There is a continuous investment policy of the management, and in last year the yard has focused digitalization and the empowering of the spatial use. In respect to this when Covid-19 knocked on the door, the yard was mentally ready for it, and had already taken some precautions before they were announced by the government.
Besiktas Group also enlarged their service with Art Shipyard in Tuzla Region with 2 floating dock and lay by berth facilities. This gives the group more flexibility and options for customer's grooving demands.
With reference to effects of Covid-19 outbreak, Besiktas has also felt the result of global turmoil by receiving postponement of confirmed projects, but this was only in small numbers. Together with personal care, Besiktas has taken numerous precautions so that regular activities can be carried out without any obstacle and jeopardy. For example, thermal cameras and hygiene tunnel systems were installed at all the yard's entrances. All the offices, ships and common areas are disinfected daily. The capacity of the changing rooms increased to twice as much as before COVID-19, and a new dining hall and separate tea stoves were built to reduce crowding in social areas. Working hours were also rescheduled, and personnel shuttle capacity was increased.  With respect to strict adherence to these precautions, no casualties or active case have been observed since March 2020. Besiktas has managed to continue regular ship-repair business between the period of March – June.
10 Eurocargo Vessels Projects have been Completed
Scrubber and BWTS retrofits of Grimaldi's 10 Eurocargo vessels series were one of the big projects that has been completed without any suspension despite many challenges of the pandemics. Also another record of contracts between two company, being highest budgetary project in the yard history is still Europalink.
Untill now, Besiktas Shipyard has completed more than 220 projects from Italy mainly the repairs of Car Carriers segment (Ro-Ro, Ro-Pax, Ro-Pax / Cruise, Pure Car Carries) and chemical tankers. Majority of companies located in Italy have chosen to bring more than one vessel within the same year, which was a quite positive sign to increase the presence of Besiktas name in that particular market.
Together all above Besiktaş secured 12 scrubber installation with Grimaldi and tank upgrading projects with Marvawe for the second half of 2020 and keeps being the trusted first choice of Italian market.