20.12.2019
Besiktas Shipyard Proves Popular In Italian Market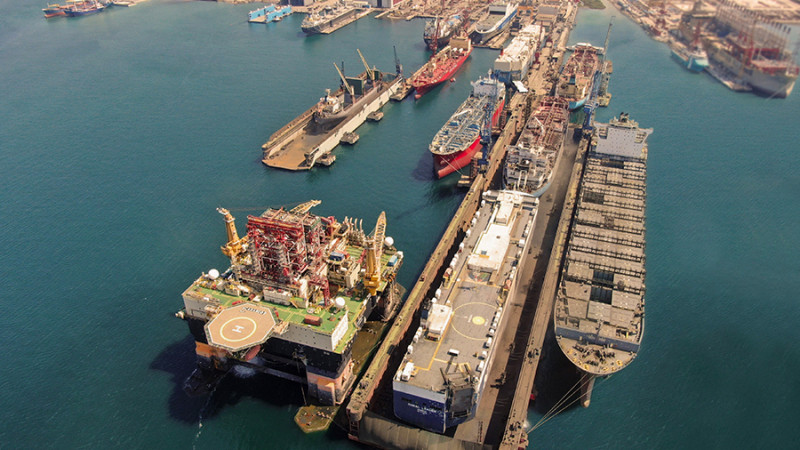 Besiktas Shipyard is standing out as the most preferred ship repair yard in Europe for last decade. Since its establishment in Yalova Turkey, Besiktas Shipyard proves popular with more than 200 projects for leading shipping companies of Italy.
Besiktas Shipyard is ranked No.8 out of the 20 most active repairs shipyards in the World; and the leader ship repair yard of Europe in 2018 according to Clarkson's report. It is no doubt that Besiktas Shipyard's organizational efficiency, state-art facilities and the importance that has been assigned for innovation stands behind this success.
2019 was one of the most active years of Besiktas – Italy collaboration with 27 projects from leading shipping companies such as Grimaldi Group,D'Amico Societa,Cosiarma Trading,Marnavi SPA,Saipem,Augustea Due,Montanari Di Navigazione,Motia Compania.
Grimaldi Group and Besiktas Shipyard reached an agreement for the installation of the Alfa Laval scrubber system on 10 Eurocargo-class Ro-Ro vessels and Wartsilla Scrubber systems on 7 Deep-Sea vessels starting from April 2019 and ending in 2020. 6 Eurocargo projects have already been completed.
World's first Wartsila EnergoFlow Installation was also performed by Besiktas. Wartsila EnergoFlow is an innovative and cost-effective pre-swirl stator that increases fuel efficiency by up to 10%. Grimaldi's 12,594 dwt Grande Portogallo was the first project for the Wartsila EnergoFlow installation.
Besiktas welcomed Scarabeo 9 at the end of August; one of the last-generation semisubmersible mobile offshore drilling units. 17 meters draft with cranage and safe mooring service are key advantages for berthing of Scarabeo 9 while Besiktas Shipyard can serve up to 36 meters draft.
17 SCRUBBER AND 50 BWTS INSTALLATIONS IN 2019
Together with retrofitting works, as expected, 2019 was one of the busiest years in terms of ship repair activities. Besiktas Shipyard has secured more than 150 projects from various shipowners for different vessel types and sizes such as dredger vessels, tankers, LPG vessels, reefer vessels, bulk Carriers and offshore vessels. Retrofitting projects had also kept them busy with 17 Scrubber and 50 BWTS installations with various makers and clients.
Other Notable Projects
Besiktas accommodated Norden A/S's MR tankers for 7 scrubbers and ballast water treatment system installation by an agreement signed at October 2018.
NaOH tank fabrication and funnel extension jobs were performed by the yard after having received the Scrubber tower fabricated by ME Production and Langtech.
Gram Car Carrier's 4.900 cars pure vehicles carrier vessels Arabian Sea and Mediterranean Sea were in the yard for retrofits of Ermafirst Ballast Water Treatment System installation and CR Ocean Scrubber installation.
Besiktas welcomed 20 vessels from Maersk Group's from Line and Tankers Offices since the beginning of the year, thanks to the proven trust and longlasting cooperation.
Besiktas has recently performed cargo tank surface treatment on three tankers; Caroline Essberger owned by John T. Essberger, Horizon Thetis and Horizon Theoni owned by Horizon Tankers.
Besiktas Shipyard continues to maintain leadership in the German Market. And also, recorded that 16 German vessels were repaired in 2019.
Beşiktaş welcomed Marine Trust's (Centrofin) Suezmax two vessels from Greece within one month. 158.033 DWT George S was in the yard for main Hyundai HiBallast BWTS retrofitting work and mooring modification for Panama Canal. The other Marine Trust's project is 46.851 dwt chemical/oil products tanker Sundoro has mainly deck treatment work scope. Those projects were the first collaboration between two companies.
Upgrading Yard Facilities
Besiktas Shipyard expands and upgrades in-house facilities to serve with higher standards.
Green Workshop : Designated 2750 sqm green mechanical workshops
Pipe Workshop : 14.000 sqm closed full-equipped new workshop nowadays dedicated to ballast water treatment projects piping works
Superintended Offices: Fully refurbished, designed offices and new recreation rooms
Safety House with positioned at center of production activities and easy access to safety team