23.01.2019
Besiktas Shipyard – Proven and Evolving Experience in Repair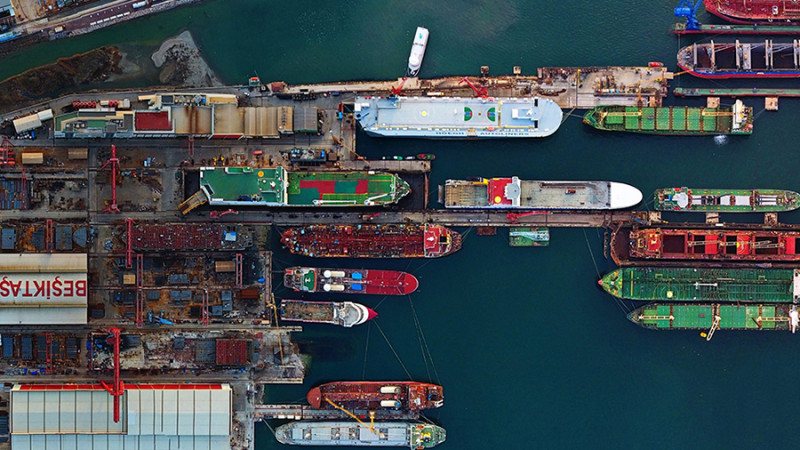 Besiktas Shipyard is one of the best established ship building and ship repair yards of Turkey with proven experience in building most sophisticated specialized ships up to 26.000 dwt and repairing any type of vessels up to 382 m. Besiktas Shipyard is the most active ship repair yard of the Mediterranean region having + 170 dockings per annum with 3 graving and floating docks up to 382 m. Besiktas Shipyard has one 235 m long, 40 m wide panamax size dry dock, a 230 m long, 37 m wide panamax size floating dock and a 382 meter long, 58 meters wide floating dock dedicated to ship repairs and conversions. Besiktas Shipyard has a strong and experienced ship repair team to provide the highest level of performance.
Besiktas serves a wide range of ship-owner and ship management company portfolio from all over the world.
Lay berths, lifting capacities, ship repair tools and equipment are available to service our clients in parallel to the vision of being one of the best ship repair & conversion shipyards of Europe.
Besiktas Shipyard aims to provide competitive services to high profile shipping segments such as off-shore ships, oil rigs, and gas carriers.
Beşiktaş Shipyard was in an active repair period as it does every year with a strong product team in 2018. Beşiktaş Shipyard continues to fill up its order book with special projects in repair business thanks to proven and extended trust between customers. Not only being able to securing repeated worldwide customer but also succeed to adapt and improve own services of latest demands in the market for BWTS and EGWS upgrading. Also, at the last month of 2018, steel productivity reached to 500T/month with various repairs. Besiktas provided repair service to 145 ships in 2018. Some of notable projects can be listed as follows;
Maersk Group's Maersk Kiel and Maersk Norfolk – Extensive Steel Repairs in Cargo Holds, Hatch Covers and Tanks
Pleiades Shipping's Xanthos – Erma-First BWTS Installation and Steel Works
Chembulk Tanker's Chembulk Barcelona – CAP survey upgrading
Torm AS's Torm Laura/Lotte/Lousie – Extensive Outfitting and Overhauling on Deck Equipment – WBT Treatment
In 2018 ; Grimaldi have secured five Ro-Ro cargo vessels to Besiktas for bulbous bow replacement in order to increase energy saving. Grimaldi Lines renovated their fleet with new generation energy saving outfits; new designed bulbous bow, Promas Lite bulb on the rudder blade, new designed propeller blades and silicon paint upgrade on the hull.
Apart from Grimaldi Beşiktaş Shipyard cooperates with very well-known ship owners in Italy such as Montanari, Marnavi and Motia since many years.
Ready For Scrubber and BWTS
Besiktas is also pleased to announce that Grimaldi and Besiktas Shipyard reached an agreement for the installation of scrubber system on 7 Grimaldi vessels, during the 2019 and 2020. Grimaldi and Besiktas are also discussing further possible cooperation on scrubber installations.
As a result of proven and extended trust between NORDEN A/S and Besiktas, scrubber retrofitting agreement have been finalized around end of October 2018. This agreement will include the scrubber and BWTS installation of vessels during 2019 and 2020.
Another aspect that worth to mention, it is revealed again that long-lasting cooperation between Team Tankers and Besiktas Shipyard continue straight away and volume of projects has been increased very recently. Besiktas will be happy to accommodate 9th vessel from Danish Tanker operator within last 9 months period.
December 2018, Woodward and Besiktas has agreed to establish a new workshop within shipyard facility. Main scope of works that will be performed in this workshop are overhauling of various type of governors, maintenance of oil mist detectors.
Together with above, Besiktas has also completed the preparation of new workshop for GRE/GRVE pipe fabrication and will be ready to full operation within February.
Besiktas has started the new year without reducing the acceleration on amount of vessels which are continuously preferring the shipyard. Together with retrofitting works, it is expected that 2019 will be one of the busiest years on last two decades in terms of ship repair activities
In order to catch-up most recent trends in shipping market and to be able to give best service for its customers; Besiktas continuously improves current condition of the facility.