22.04.2019
Besiktas is the Leader Ship Repair Yard of Europe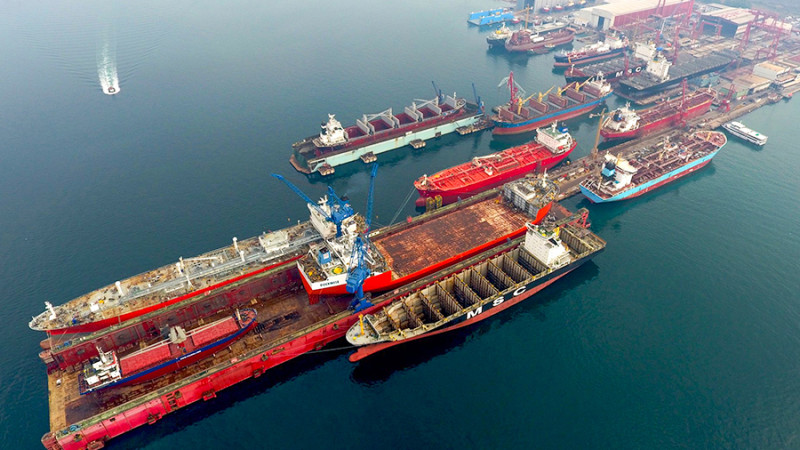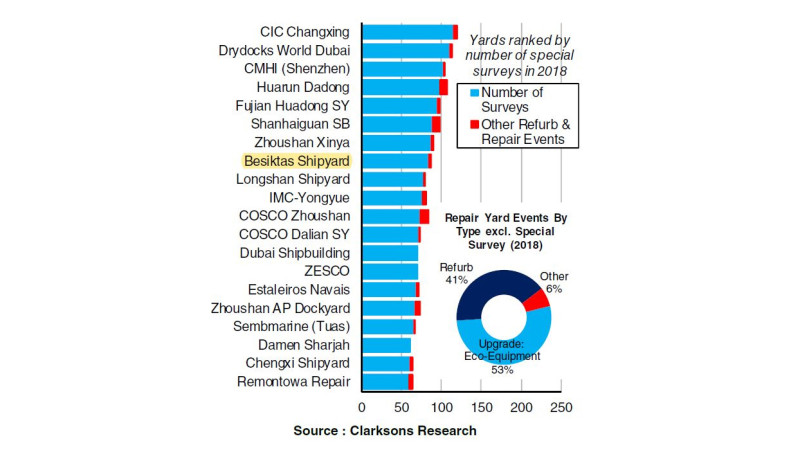 According to Clarksons Report, Besiktas Shipyard is ranked No.8 out of the 20 most active Repairs Shipyards in the World; and the leader ship repair yard of Europe.
Since its establishment in 2007 on Yalova region of Turkey, Beşiktaş Shipyard has shown an increasing graphic and become one of the most active and prestigious shipyards of the World in a very short time. Clarksons report announced on 12 April, showed that Beşiktaş Shipyard, with annually 180 ship repairs and dockings, is the leader ship repair yard of Europe and the 8. of the world. And it continues to sign new agreements with prestigious groups enlarging their collaboration.
Installation of Scrubber Agreement with Grimaldi Group is increasing from 7 to 17
In addition to 7 deep sea vessels, Grimaldi Group and Besiktas Shipyard reached a further agreement for the installation of scrubber system on 10 Eurocargo-class Ro-Ro vessels starting from April 2019 and ending in 2020. Together with this agreement total 17 vessels of Grimaldi Group are going to visit Besiktas during this period. Besiktas Shipyard thanks to Grimaldi Group for this cooperation on scrubber installations. The first project 10.765 dwt, Ro-Ro vessel Eurocargo Venezia is going to be in the yard for retrofit and prefabrication already started.
Besiktas shipyard is also very active with Ballast Water Installation projects, this year the shipyard is having around 5 ships with BWT installation projects per month , the prefabrication of the piping works are done in a 14.000 sqm workshop dedicated to BWT and Scrubber piping works.
During April, Besiktas accommodated simultaneously three Norden AS's chemical/oil products vessels. 50.078 dwt Norden Pearl is the second project of signed fleet agreement for scrubber and ballast water treatment system installation scope. Also 49.999 dwt Nord Minute is currently in the shipyard which has Hyundai ballast water system installation. In addition, 38.326 dwt Nord Swan has routine drydocking works.
Besiktas also welcomed Maersk Group's three ships from Line and Tankers Offices at the same time; 38.850 dwt chemical/oil tanker Maersk Kalea, 109.637 dwt crude oil tanker Maersk Princess, 43.239 dwt container vessel Maersk Brani.
Together with above as part of previous agreement between Hyundai Global Services and Besiktas Shipyard, Seaways International's 112.969 dwt, crude oil products tanker Seaways Yosemite which is the second project of Ballast Water Treatment System installation for this specific owner.
Besiktas Shipyard recently repaired a container vessel, Evergreen Marine's 15.511 dwt Uni-Assure. Mainly, scope of works on vessel contain routine drydocking works, transportation of hatch covers, extensive outfitting works and cell guide renewal.
Apart from current retrofits orders, Besiktas has reached an agreement with a reputable Norwegian ship owner to perform scrubber and BWTS installation on to PCC units. Projects are to be carried out with 4th quarter of 2019.
Other recent repair projects have included Worden GMBH's 12.827 dwt container vessel, Jungerhans Maritime's 16.794 dwt container vessel Corona J.