24.11.2021
Ah Camogli (RR), Etrusco (Elbana di Navigazione) and two ships of Grimaldi under the care of Besiktas Shipyard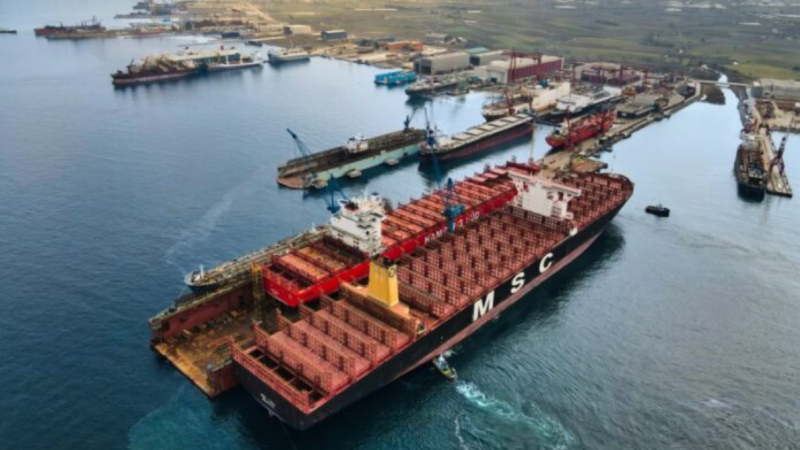 Cooperation between Italian ship owners and Besiktas Shipyard dates back to more than 10 years, and Besiktas Shipyard holds the leadership position in Italy since 2016. Grimaldi, d'Amico Societa, Marnavi, Augusta Due, Premuda, Navigazione Montanari are the repetitive customers providing the majority of the ship repair projects.
Besides that, the yard continues to attract new clients with its highly experienced team managing the whole repair project so smoothly and offering tailor made solutions for special needs. Lastly the Italian shipping companies Rimorchiatori Riuniti and Elbana di Navigazione have contracted with the yard for their repair projects. Grande Argentina and Grande Africa of Grimaldi Group are also in the yard for extensive steel works. In last 10 years, the number of Italian ships accommodated in the yard reached 168 with these projects.
NEW AGREEMENTS
AH Camogli
Rimorchiatori Riuniti was on the scope of Besiktas Shipyard since the beginning of the last year and two companies had come to an agreement for the conversion projects of the offshore supply vessel.
M/V AH Camogli has arrived the yard at the beginning of April for accommodation and main deck machinery conversion works. Main scope of the project is prefabrication and installation of new accommodation area, modification of the existing cabins and mess room, upgrade of deck winches, cranes, modification of hose washing area and lifeboat davits.
The ship is expected to leave the yard soon.
Etrusco
Elbana di Navigazione is another shipping company entered the portfolio of Besiktas. The tankership of the company Etrusco is in Besiktas Shipyard since the 11th of May for Alfa Laval BWTS installation, complete main engine overhauling, electrical motor and cargo pump maintenance, tailshaft and propulsion works.
MSC TINA – The biggest ship repaired in Turkish Shipyards
After a collusion in a port, the containership MSC Tina had a damage in her shell plate. With 400m LOA, and 59 m breth, 19.224 TEU capacity, MSC Tina was in the scope of Turkish shipyards as the biggest ship needed to be berthed urgently. Besiktas Shipyard with its suitable draft allowance and berthing capacity managed the operation smoothly and hosted MSC Tina for 30 days repair period.
CSM Italy
One of the youngest ship management company of Genova, CSM Italy, handled the 2nd special survey and BWTS projects of Nina and Grazia to Besiktas Shipyard.
Continuous Infrastructural Improvement
As the most active ship repair yard of Europe, in Besiktas Shipyard, continuous infrastructural improvement plays a key role to run the whole ship repair operation smoothly. After the big closed mechanical workshop construction in last year, Besiktas has enlarged the capacity of pipe prefabrication and outfitting workshops, grid warehouse and chemical storage areas are relocated,
owner representative offices were renovated, equipment such as high technology lathe and welding machines are modernized.