17.06.2019
83 Projects from Beşiktaş Shipyard for the First Half of the Year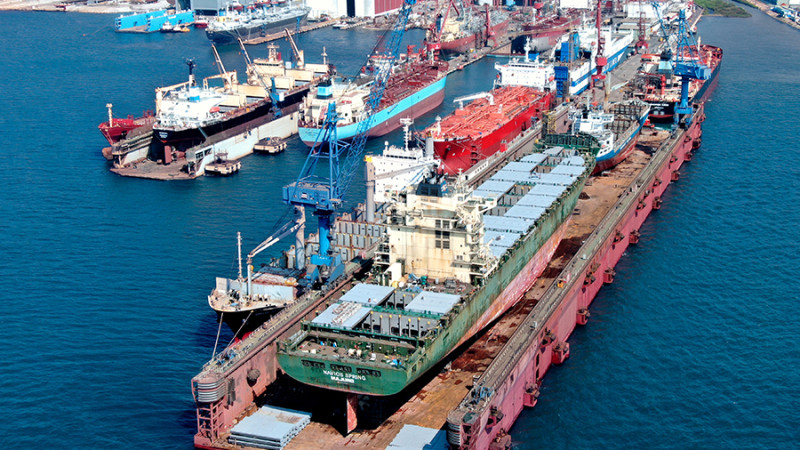 Besiktas Shipyard is the most active ship repair yard of the Europe, according to Clarksons report and it stands out with its facilities, organizational efficiency and the engineering intelligence. As one of the most prominent shipyard globally, Besiktas Shipyard has secured more than 83 projects for the first half of 2019 from various shipowners for different vessel types and sizes.
Besiktas Shipyard is standing out with its BWTS and scrubber retrofitting projects. In last two years, Besiktas Shipyard has completed more than 30 BWTS and 3 scrubber installation projects.
During the first half of this year, Besiktas Shipyard served for a wide range of ships such as Dredger vessels, Tankers, LPG Vessels, Reefer vessels, Bulk Carriers, offshore vessels.
Repeat business remains a major focus in Besiktas's strategy and first half of 2019 it has completed contracts from repeat customers such as Norden A/S, Maersk Line, Grimaldi Group, Hafnia Tankers, Navios, Torm, Anglo-eastern, Fleet management.
In June, Besiktas welcomed many Danish owned vessels. At the same time; following projects were being accommodated in the yard;
Maersk Group's 43.177 dwt container vessel Maersk Bogor and 37.188 dwt chemical/oil products tanker Maersk Erin
Norden AS's chemical/oil products vessels 51.291 dwt Nord Stingray and 49.593 dwt Nord Superior
Hafnia Tankers which is under Donnelly Tanker Management's 40.014 dwt chemical/oil products tanker Hafnia Robson
Together with above, Beşiktaş welcomed Maersk Group's 12th vessel from Line and Tankers Offices since the beginning of year, thanks to proven trust. Also, Norden AS's chemical/oil products vessels are the part of signed fleet agreement for scrubber and ballast water treatment system installation project. In addition, Hafnia Robson has Alfa Laval ballast water treatment system installation.
Leadership in German Market
Besiktas Shipyard continues to maintain the leadership in German Market. We welcome Minship's handy size bulker of MV Barbara is recorded 12th German vessel which is repaired in 2019. The work scope includes major steelworks in cargo holds, mechanical works and routine special survey items.
After five years period; Besiktas is happy to accommodate once again Cosiarma SPA's 16.024 dwt refrigerated cargo ship Cala Pino which is managed by Seatrade Groningen. The work scope includes major steelworks, cargo hold insulation removal/refitting and renewal, mechanical works and routine drydocking works. Besiktas Shipyard is preferred on this tough project as a result of proven trust on Safety Management.
In addition, Besiktas Shipyard recently repaired a container vessel from Navios Containers Management, 42.806 dwt Navios Spring, main job on the vessel was routine drydocking works, hull treatment works and Erma First Ballast Water Treatment System installation. Beşiktaş is also carrying out repairs on-board the 9.551 dwt hopper dredger vessel Tong Li, which is owned by CCCC Tianjin Dredging.